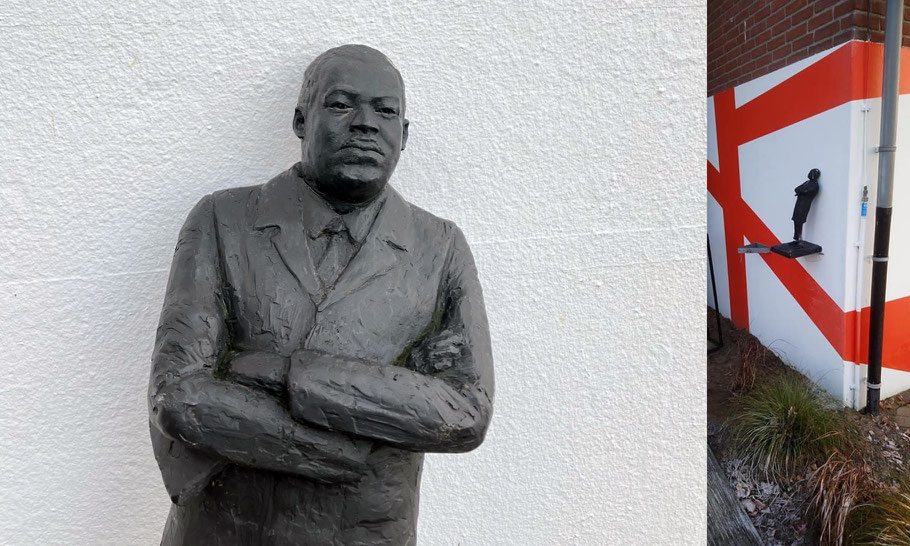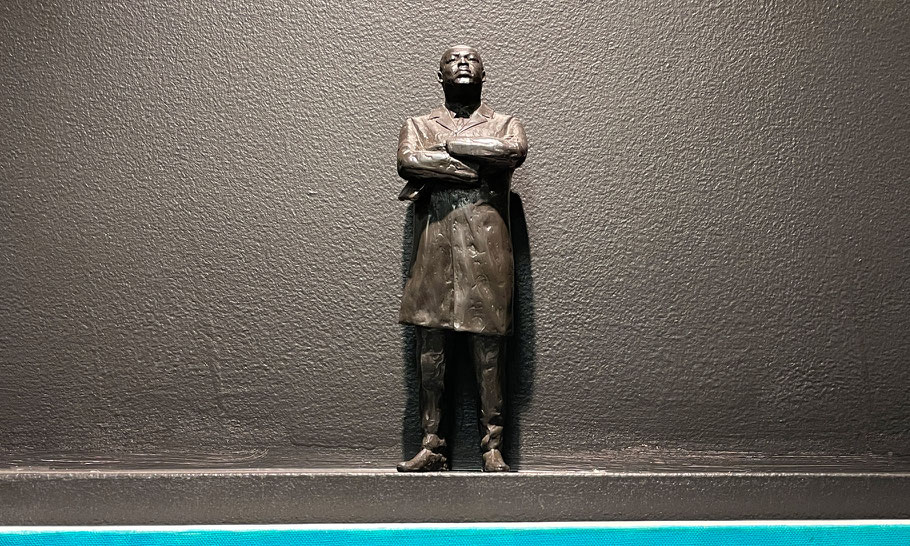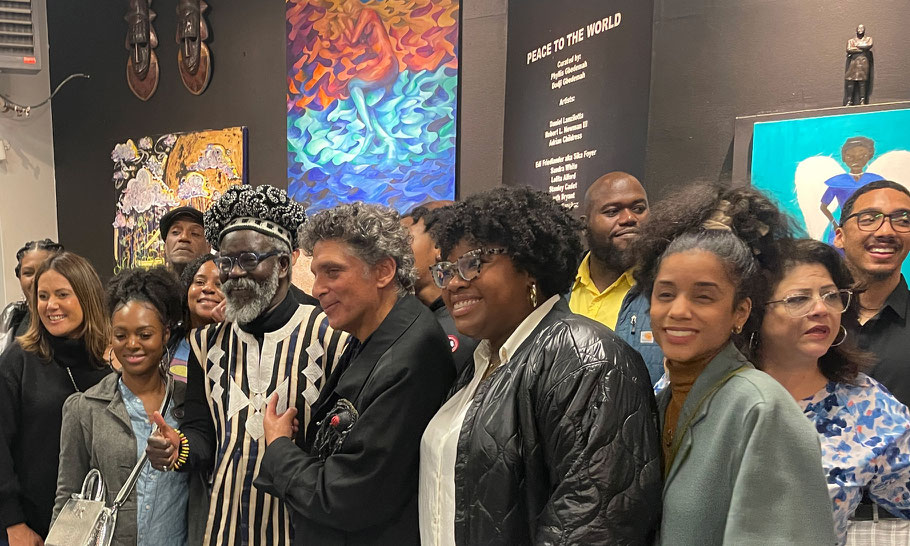 I was so lucky to be able to participate in this December 2022 group show Peace to the World at Kente Royal Gallery in Harlem, a very welcoming place. The opening reception was crowded and festive, with a performance by Businessman aka Kevin Gray. The statue was the only piece of art I took with me when moving to New York, it is is very dear to me.
December 3 - 31, 2022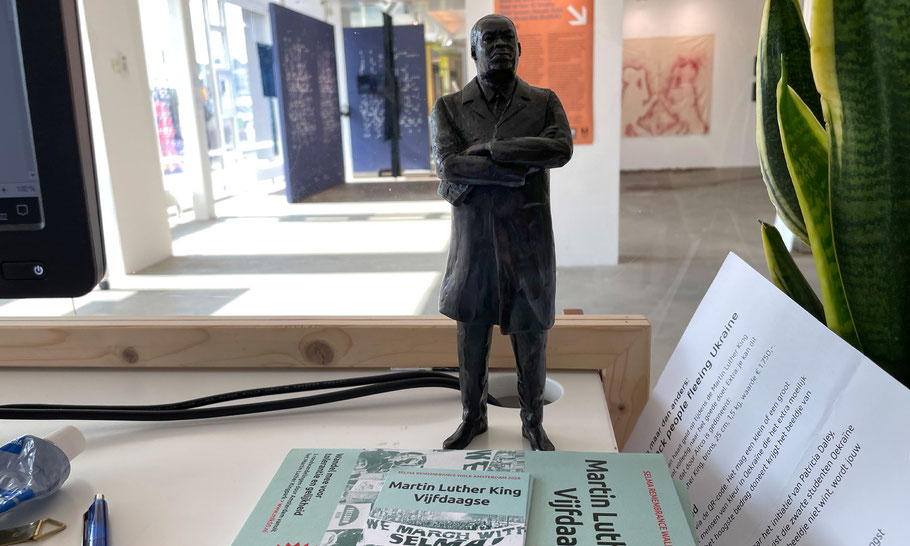 To raise money for the Black people in Ukraine to help them flee the country, one bronze statue was donated as an extra for the Selma Remembrance Walk, the Martin Luther King Five Day Walk, from March 21-25, 2022, that was transformed into a sponsor walk because of the horrible war in Ukraine. People of color were discriminated, and pushed back when they wanted to cross the border of Poland. $1130 was raised and donated to the Gofundme initiative by Patricia Daley, a Kenyan-British lawyer and activist, Korrine Sky and Tokunbo Koiki who founded blackwomenforblacklives.org
March 21 - 25, 2022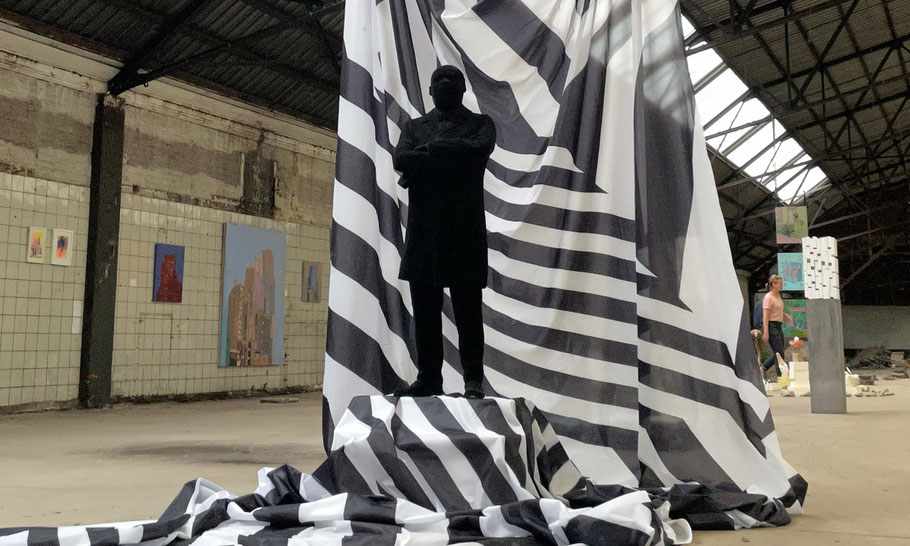 The original 120 cm (4 feet) high 3D print of Martin Luther King that was used to manufacture the mould for the bronze statue, was flocked and put on display in an industrial building in Amsterdam, during a pop-up show by art collective Popinnart. 
September 10 - 11, 2021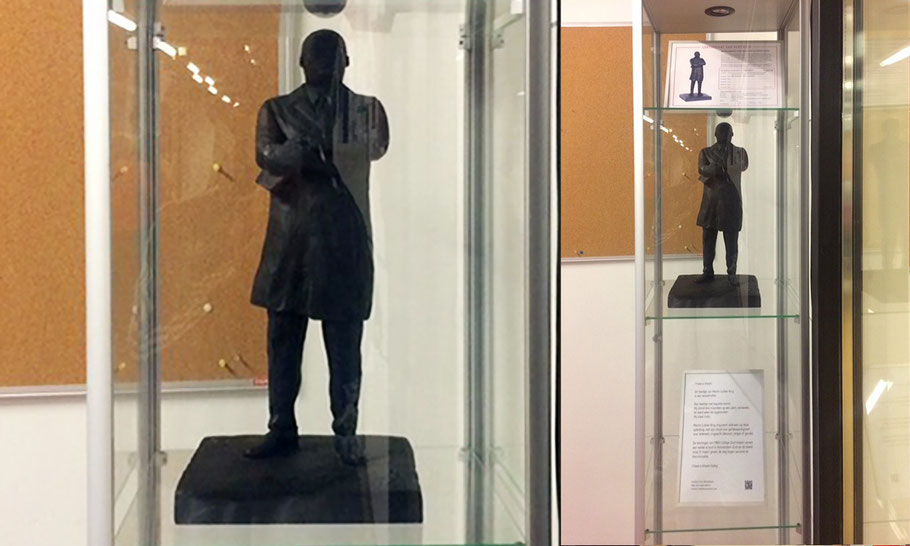 The statue that the dancers of ROC Amsterdam college Zuid received to give it next year to another school, has a beautiful spot inside the school, visible for all students and teachers, to keep the dream alive.
Ongoing since October 2021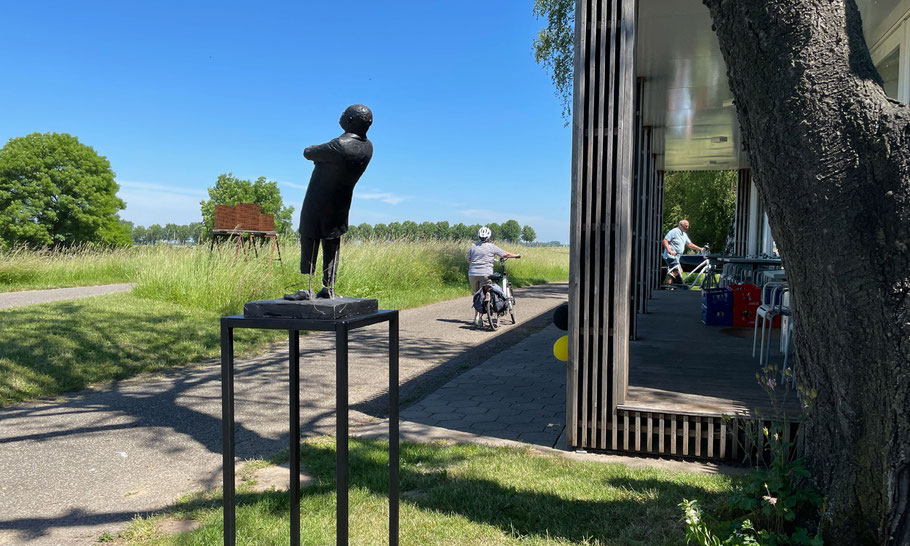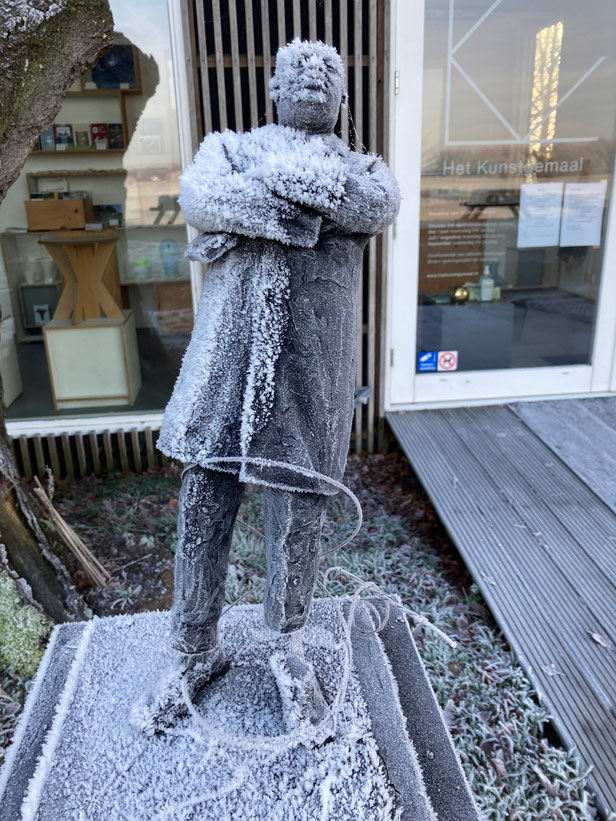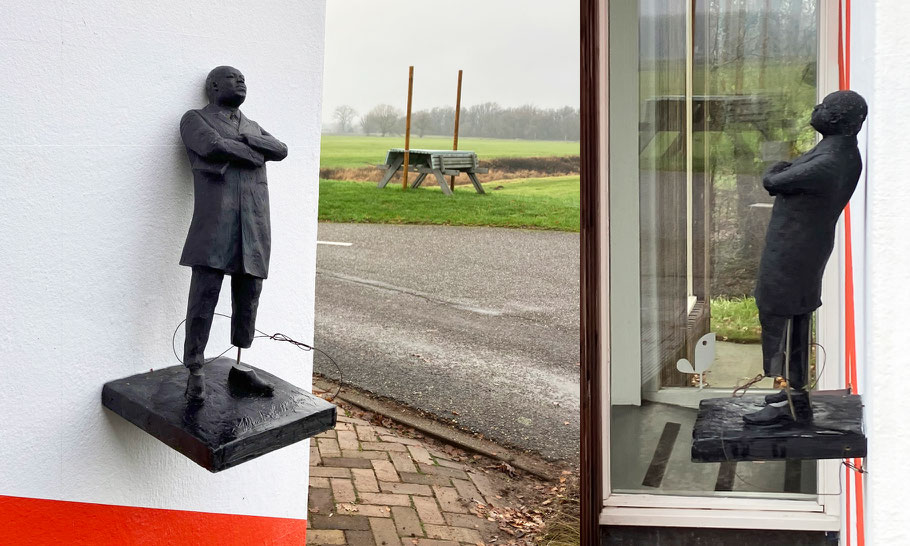 One of the vandalized statues is on permanent display at gallery Het Kunstgemaal in Bronkhorst, located close to the IJssel river in a beautiful rural area. This statue was destroyed after standing for more than three months next to 'A Long Way To Freedom', the statue of Nelson Mandela in The Hague.  It's agreat location, with a lovely Artist Residence (tip!). 
Ongoing since June 2021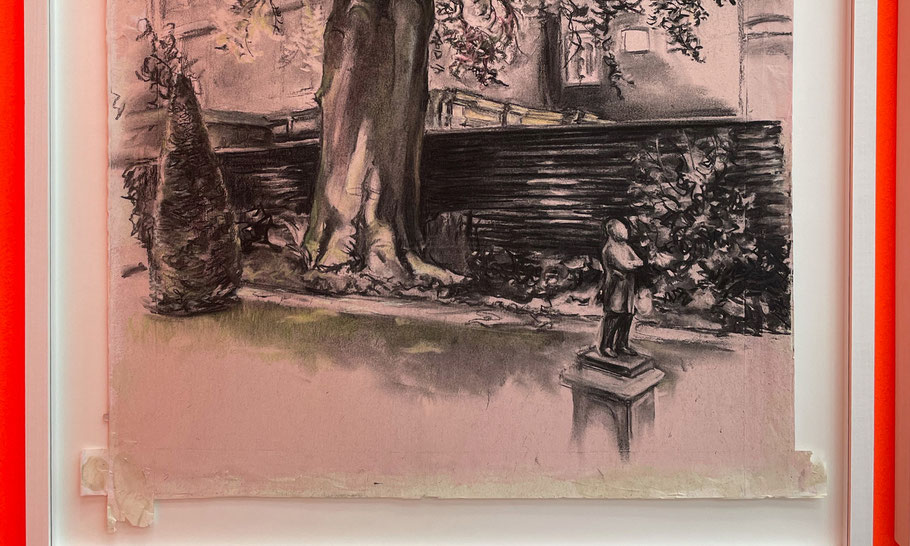 The statue was drawn by Jet Nijkamp, who draws trees with a story. This tree, a beech in the garden of the Mayor's house in Amsterdam was planted by the Van Loon family, slave traders, who used to plant beeches in their gardens as a token of wealth. The statue of Martin Luther King is also standing in this garden on a beautiful pedestal.
September 29 - October 3, 2021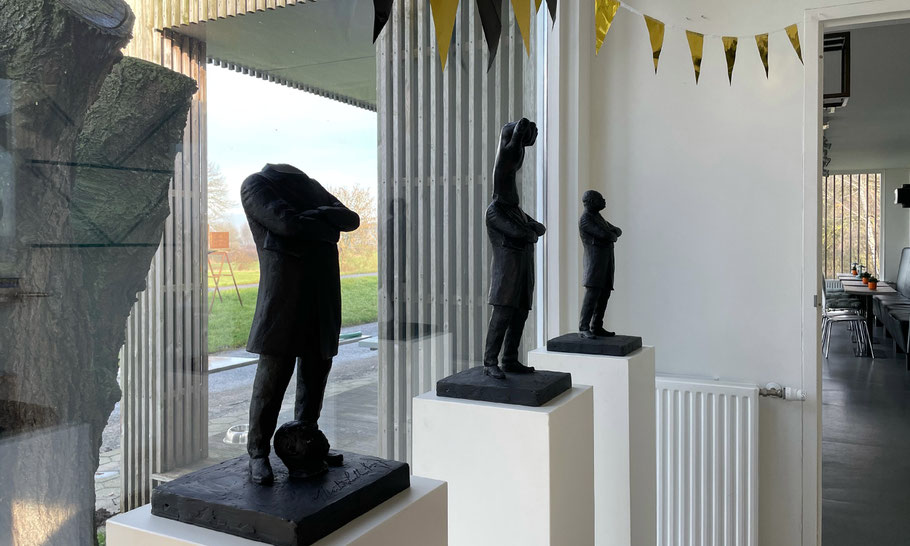 To celebrate the 91st birthday of Dr. Martin Luther King on January 15, 4 statues were on display at Het Kunstgemaal. It was a strange exhibition because it was a lockdown due to the covid-19 pandemic and the gallery was closed for almost half a year.
January - June 2021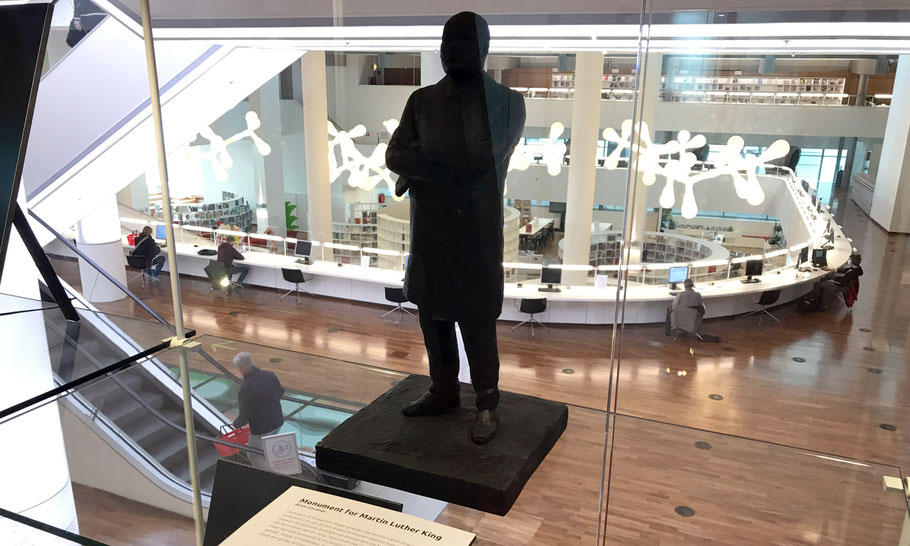 The exhibition in the Public Library Amsterdam, Black Movement: #BlackLivesMatterNL, remembered the abolishment of slavery 147 years ago in 2020. In cooperation with The Black Archives,  Mona van den Berg photographed 147 beautiful people who contribute to black emancipation. On view also Afro Futurism by AiRich and photos by Leonel Piccardo in partnership with Naomie Pieter of Black Pride, who show the different kinds of resistance and emancipation of POC in the Netherlands. 1 of the 50 statues of Monument for Martin Luther King was included in the show.
October - December 2020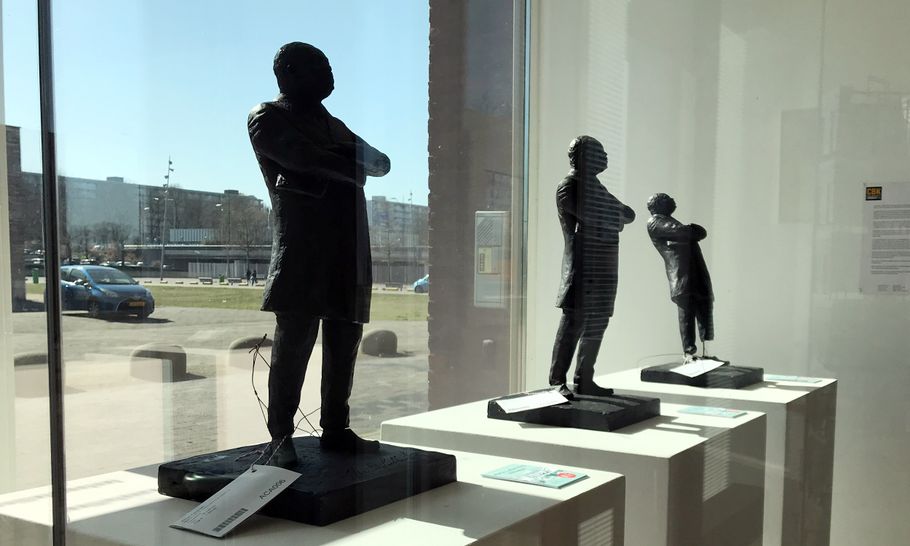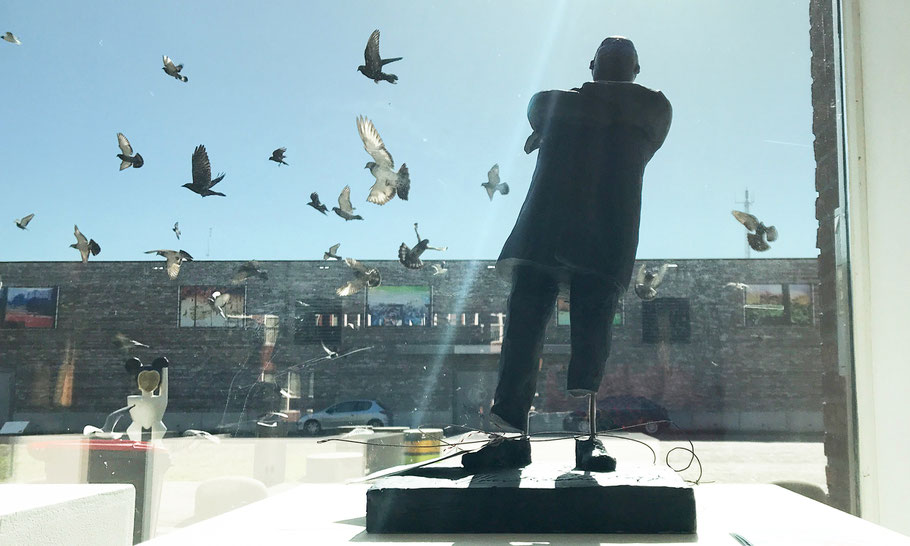 During the Martin Luther King Five-day walk, to remember the March from Selma to Montgomery in 1965, three vandalized statues were on view at gallery CBK Zuidoost in Amsterdam Southeast. This location was also a rest stop in the Walk Southeast. Outside is standing the temporarily placed statue by Monika Dahlberg: Kuboko Kumozi Kakinga - strong man/woman, fighter for peace, freedom and justice.
March 2020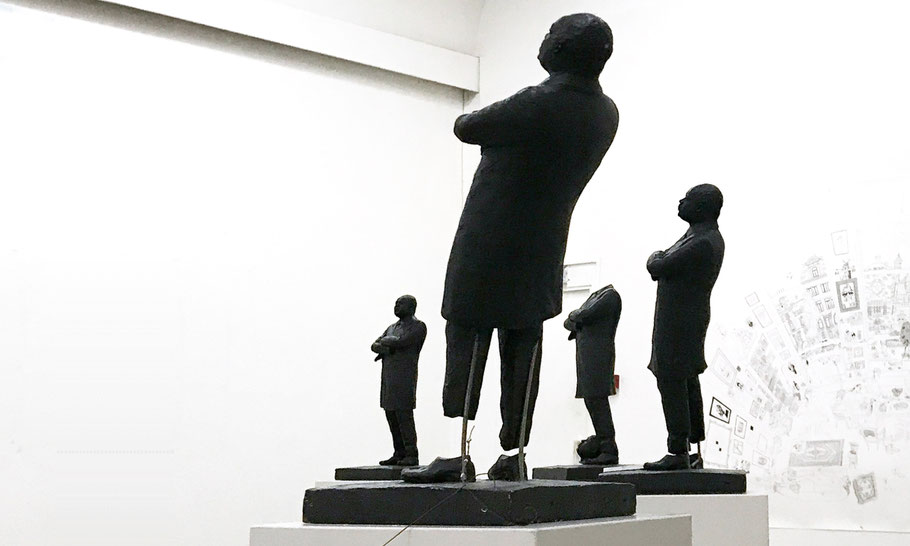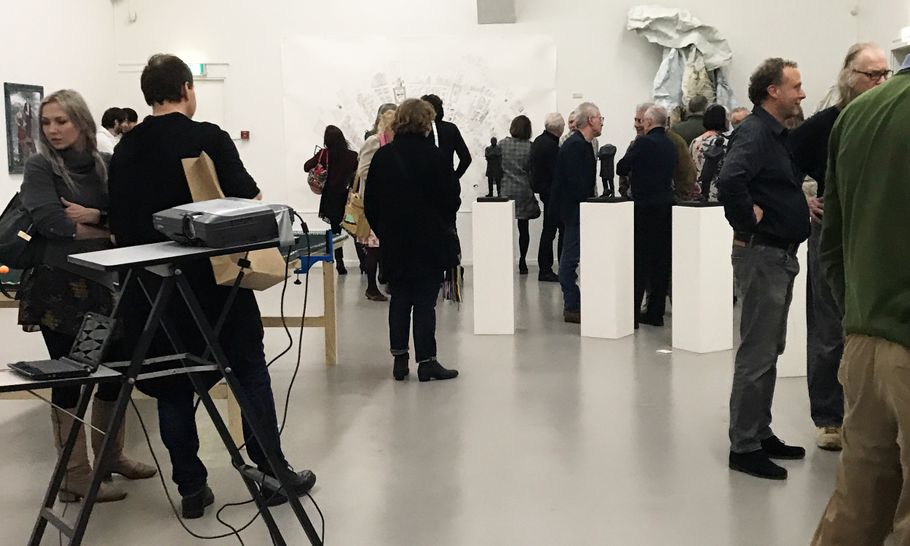 In the group show World Problems and other inconveniences by curator and artist Reinder van der Woude the five broken statues were on display. Other participating artists among others: Baukje Spaltro, Eliane Gerrits (large drawing in background), Ella Koopman, Jean-Philippe Paumier, and Julia Winter. While this show was running, the bronze statue was placed in the Martin Luther King Park without permission.
January 2020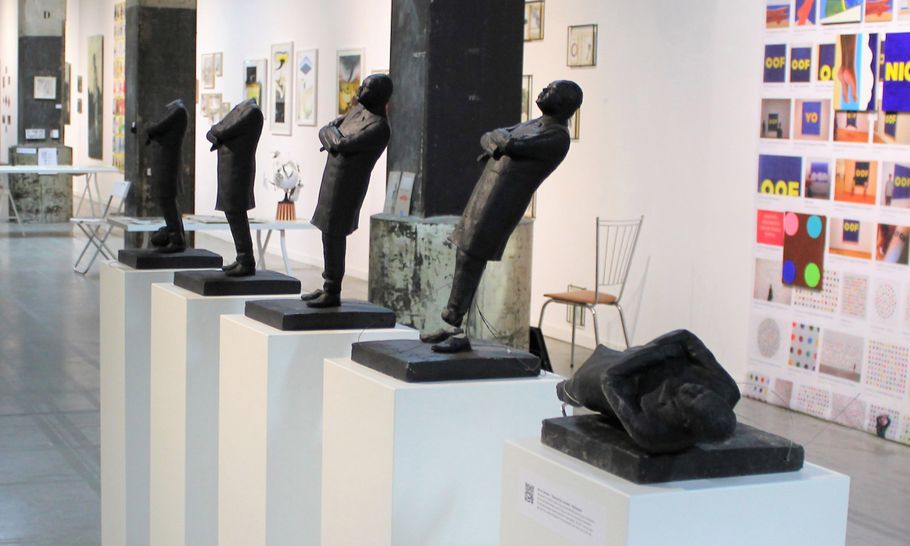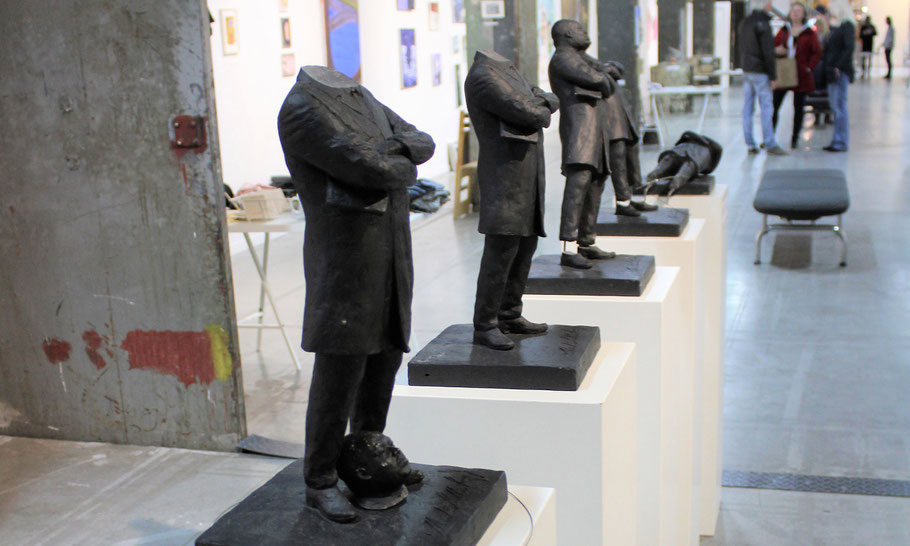 Five broken statues were on show during the Great Artists Steal event by art collective Popinnart at Loods 6, Amsterdam.
April 13 - 15, 2019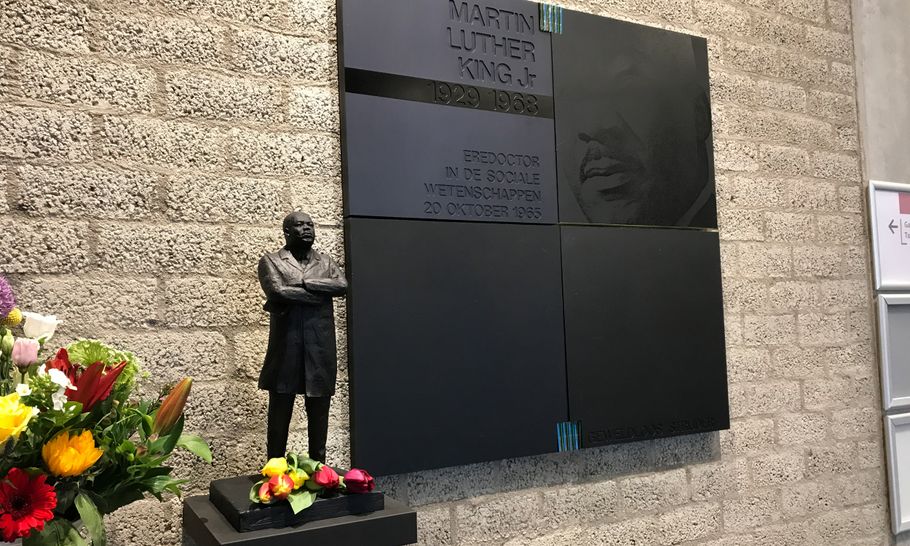 The statue is on permanent view at VU University, the Vrije Universiteit in Amsterdam. Standing next to the memorial sign of the doctorate of honor Dr. King received from the VU in 1964, every year at April 4, the day Dr. King died, they put flowers next to it.
Ongoing since September 2018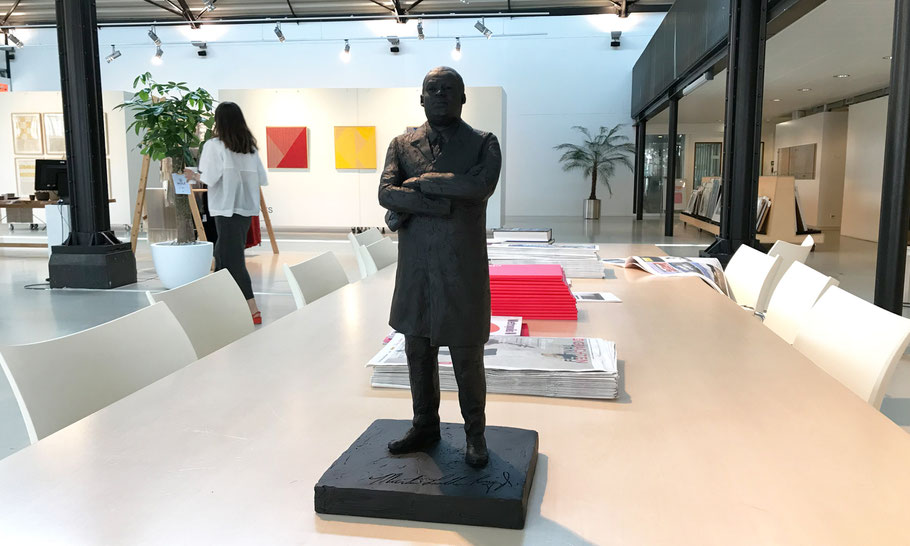 After they rescued the beheaded statue (including the head), that stood next to the National Slavery Monument in Oosterpark, the statue was exhibited in the gallery of Art Library SBK in Amsterdam East.
June - July 2018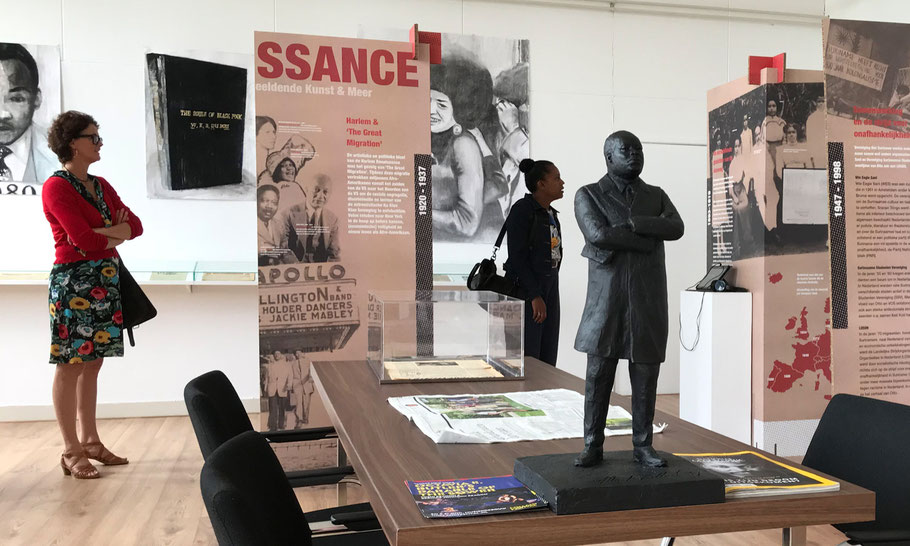 On view in the exhibition Black & Revolutionary: uncovering a long-hidden story in an exhibit that featured unique documents from the archives of Hermina and Otto Huiswoud and artworks by Iris Kensmil (drawings of Dr. King and Angela Davis), Brian Elstak and Raul Balai. The Black Archives is a unique historical archive for inspiring conversations, activities and literature from Black and other perspectives that are often overlooked elsewhere. The Black Archives documents the history of black emancipation movements and individuals in the Netherlands. 
November 2017 - July 2018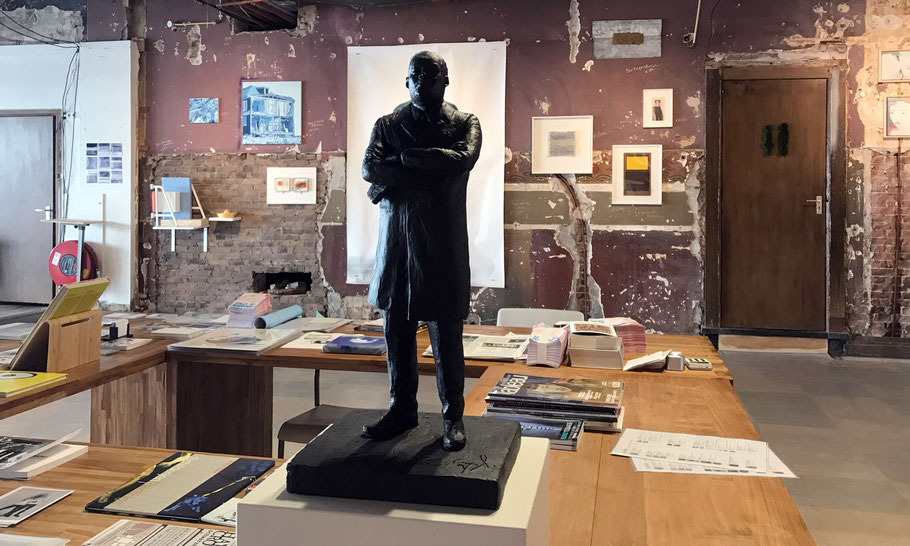 On view in the old cinema of art collective Popinnart in Amsterdam where they had an artist-run gallery. The old building was demolished to make place for an apartment building and the art collective is now a nomadic group that pops up some times.
April 2018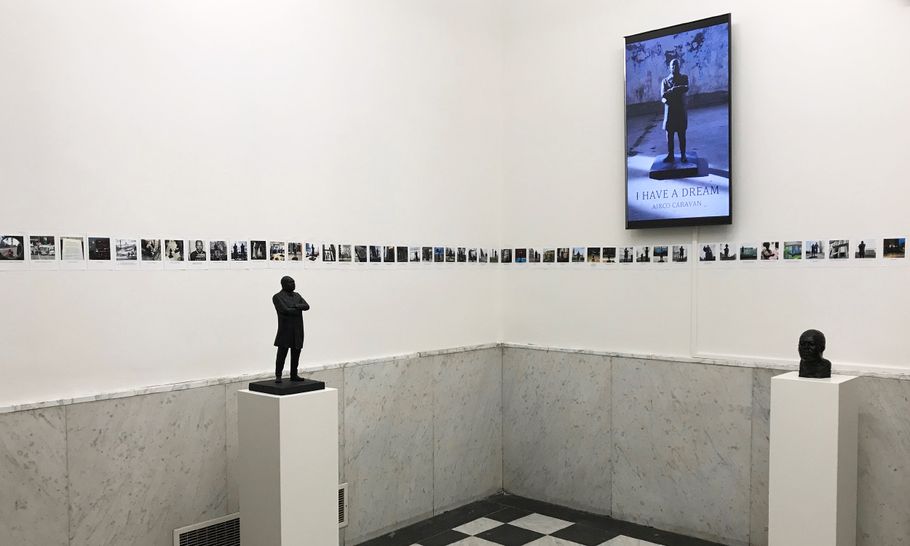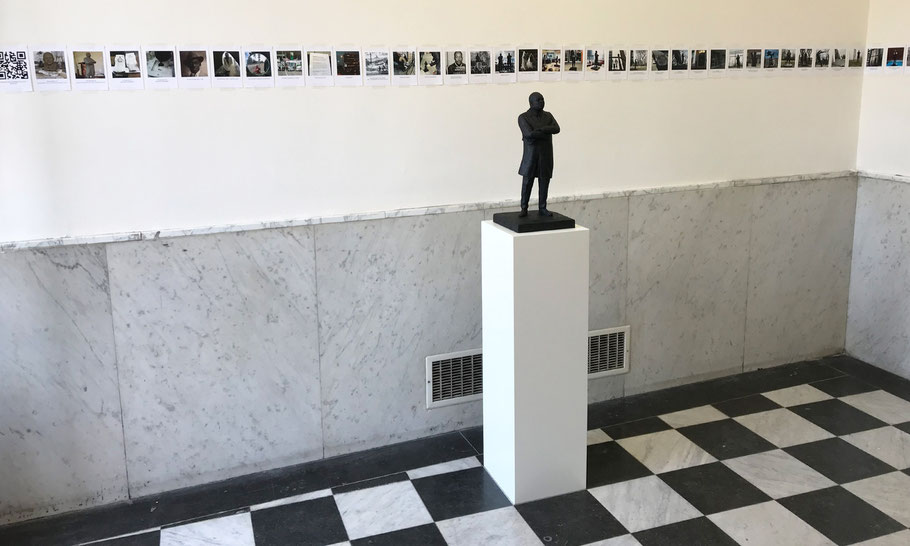 On April 6, 2 days after the 50th anniversary of the assassination of Martin Luther King, the statue a  and the bust were on view for one day in the Front Gallery, a temporarily gallery at art society Arti et Amicitiae in Amsterdam.
April 6, 2018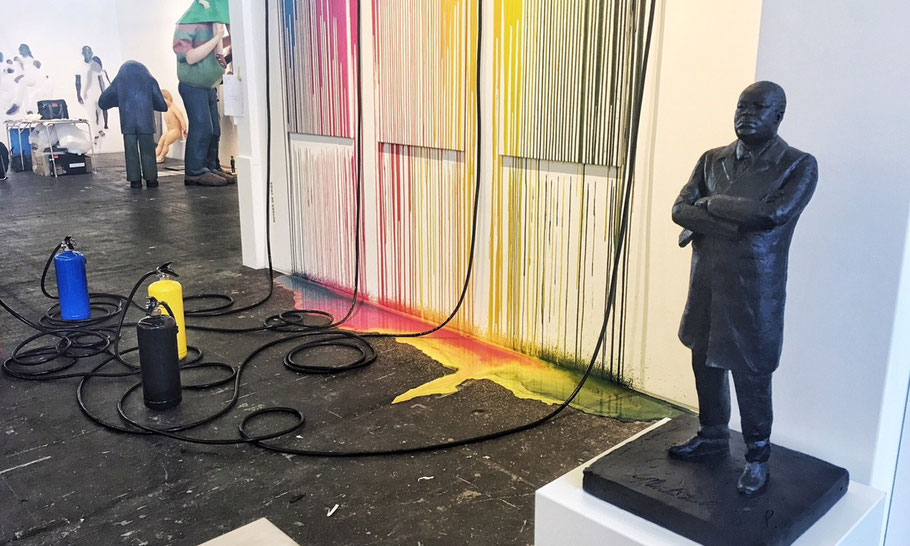 At art fair KunstRAI in Amsterdam the statue was on display on April 4, 2018, the 50th anniversary of Dr. King's assassination in the booth of Josilda da Conceição Gallery, together with a dripping paint performance by Rutger de Vries.
April 4 - 8, 2018