Without anyone knowing, this bronze 1.2 meter/ 4 feet statue of Martin Luther King was created and illegally placed in broad daylight in the Martin Luther King Park on January 15, 2020, the birthday of Dr. King. The statue was embraced by all Amsterdammers, and is tolerated by the municipality, in the park that was named after him to honor him, after his assassination in 1968.
As a result of the guerrilla pop-up exhibition Monument for Martin Luther King, the plan was launched to realize a bronze Martin Luther King Statue in the Martin Luther King Park. A poll in the local newspaper showed that residents and users of the park were enthusiastic about a large statue in the park.
With the parties involved, a suitable location for the statue was chosen and it would be presented to the local people during a information meeting in the park with tea and hot chocolate. But the progress of the project slowed down more and more, until nothing happened any more.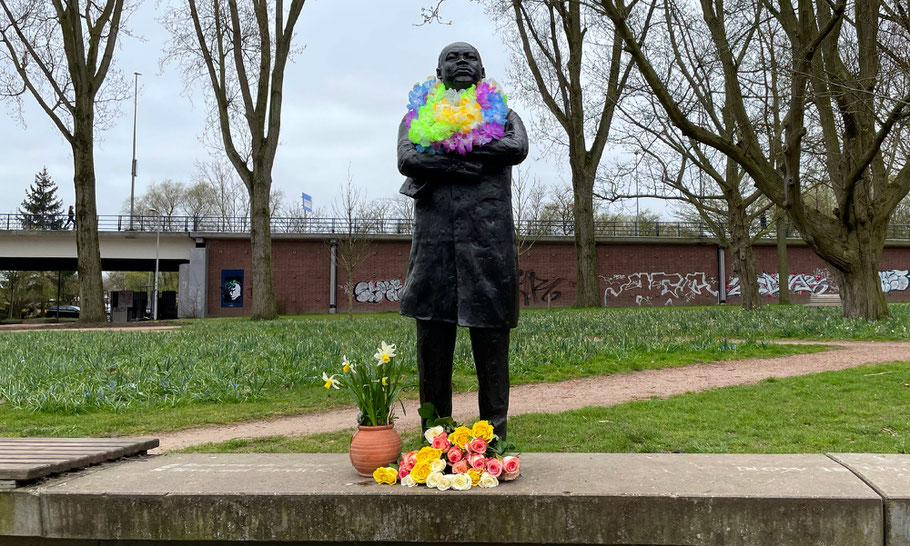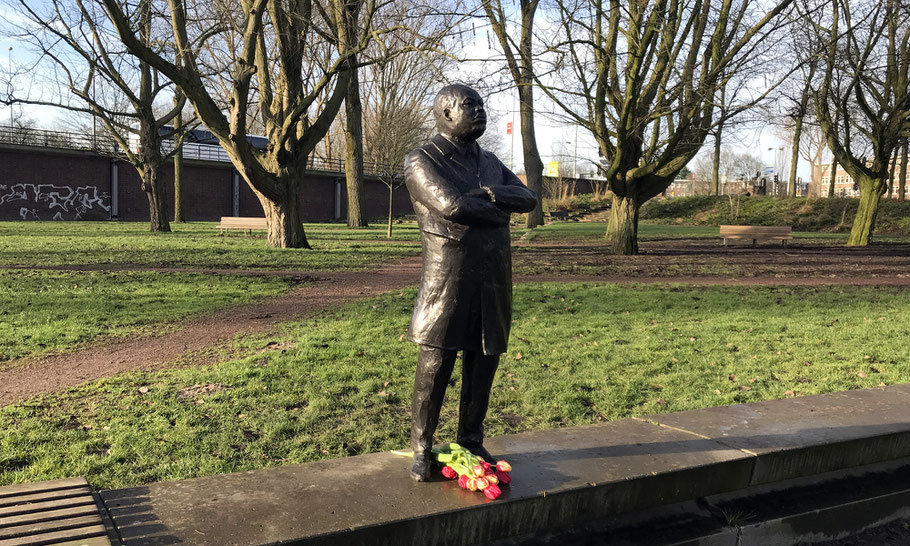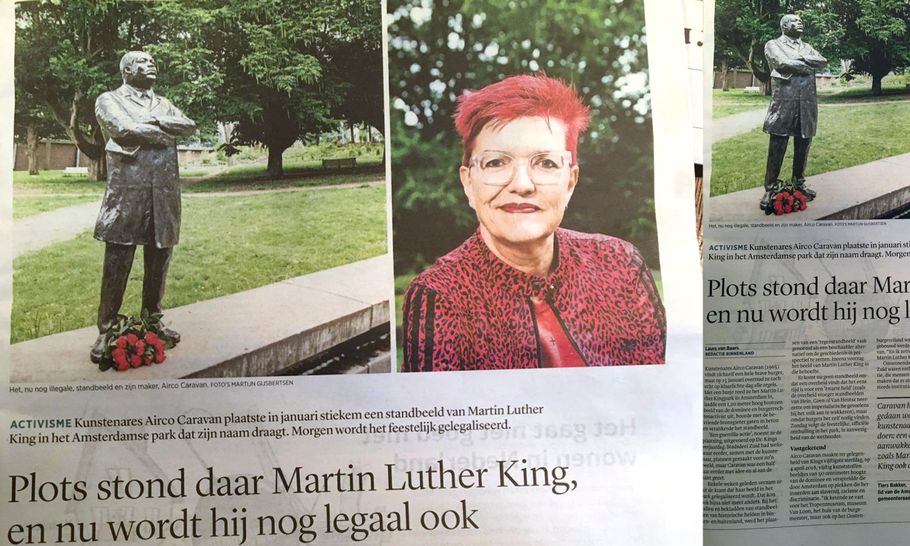 In the meantime a sense of urgency grew, because equal rights and solidarity are more and more under pressure. Students with a non-Dutch name don't get an interschip, women with a headscarf can't find a job, children with a foreign background get a structural lower school advice. The burqa ban, racist slogans during soccer games, the 'black pete' blackface tradition that's still not gone after decades of discussion....
That's why the statue had to be realized now. It is a peaceful protest, a statement against racism and discrimination, dedicated to everybody who fights for equal rights. And an appeal to all the citizens of Amsterdam to stand up against injustice. The back of statue has a quote of Dr. King:
"The ultimate tragedy is not the oppression and cruelty by the bad people, 
but the silence over that by the good people".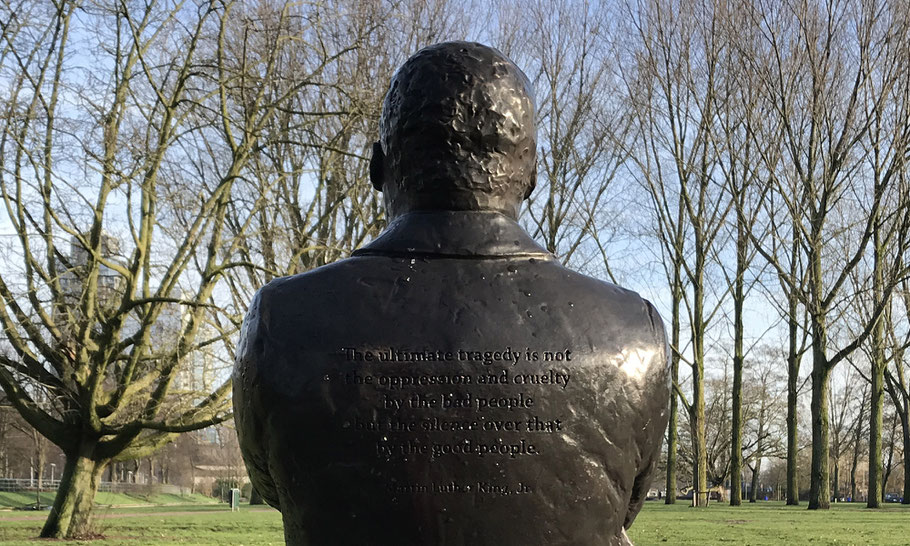 In 2018, 50 years after his assassination, the project Monument for Martin Luther King was developed: 50 identical statues of Martin Luther King. To keep his Dream alive, 50 identical statues were placed from Memphis to Amsterdam on locations that refer to slavery and places that emphasize the importance to end racism and fight for equality, regardless of gender, religion and race. To keep his dream alive, see mlk50.nl/50statues. One of these statues was placed in the Martin Luther King Park and put on a beautiful high 'City Wood' pedestal. That's how the idea came about to create a permanent bronze statue. Because it should have been there already for years, in the park that was named after him. And now he is finally here; a gift for the Martin Luther King Park, a present for Amsterdam.

Atlas Obscura, februari 2020
Vredesmagazine, nr. 2 -2020
AT5, 9-6-2020 > Beeld mag blijven staan
Nu.nl, 9-6-2020
De Kanttekening, 10-6-2020
De Telegraaf, 11-6-2020
SP, 12-6-2020
Het Parool, 13-6-2020
Boeddhistisch Dagblad, 29-6-2020
Trouw, 4-7-2020
AT5, 5-7-2020
Het Parool, 5-7-2020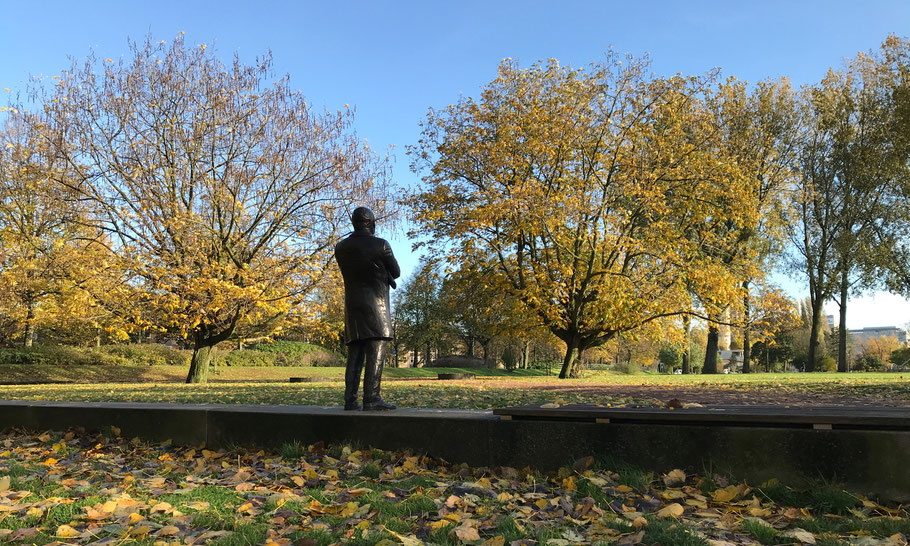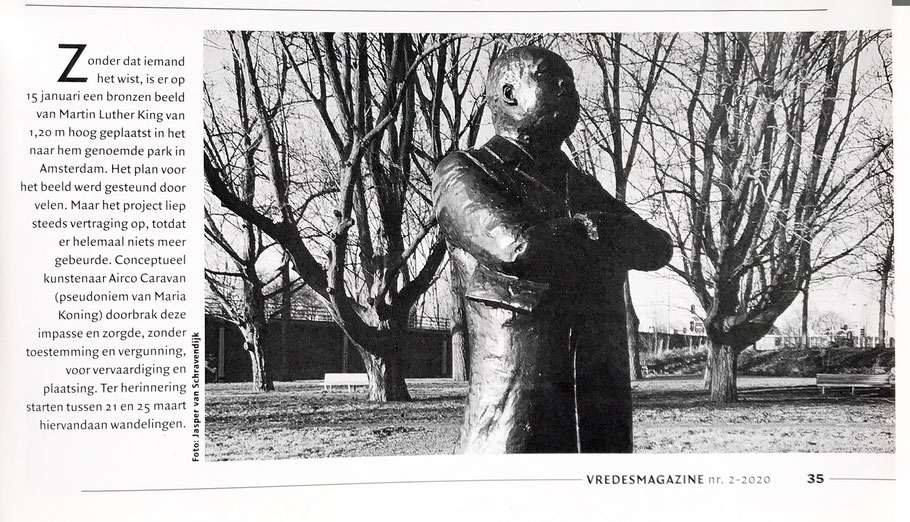 ---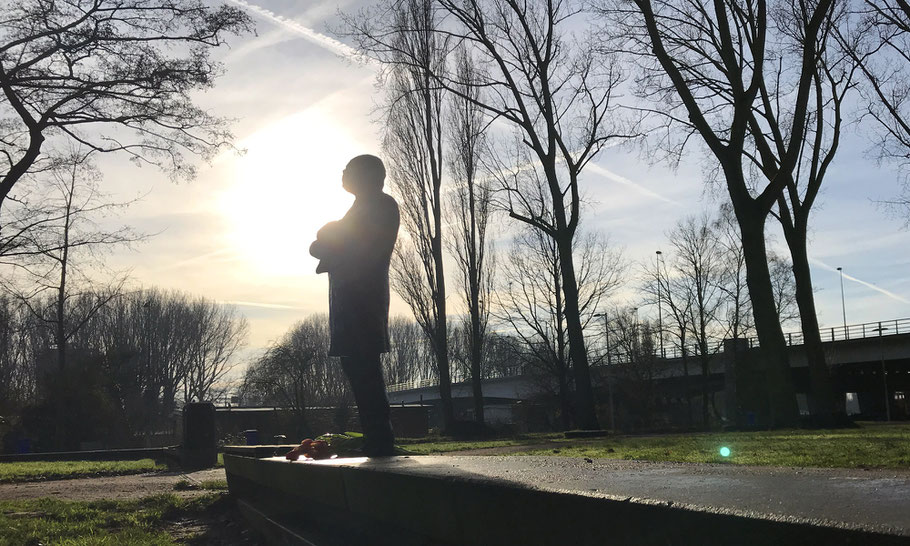 Zonder dat iemand het wist, is het bronzen beeld van Martin Luther King uitgevoerd. Sinds 15 januari 2020, de verjaardag van Dr. King, staat het beeld van 1,2 meter in het Martin Luther Kingpark. Het beeld is omarmd door duizenden Amsterdammers en de gemeente: hij mag blijven staan.
Naar aanleiding van de guerrilla pop-up expo Monument for Martin Luther King, werd er medio 2018 een traject gestart om een bronzen beeld van Martin Luther King in het park te realiseren. Uit een peiling in stadsblad De Echo bleek dat ook de bewoners van stadsdeel Zuid enthousiast waren over het idee van een groot bronzen beeld in het park. 
Met de betrokken partijen werd in het MLKpark gezocht naar een geschikte plek en deze zou voorgelegd worden aan buurtbewoners en gebruikers van het park tijdens een informatiemiddag met thee en warme chocolade. Maar het project liep steeds meer vertraging op, totdat er helemaal niets meer gebeurde.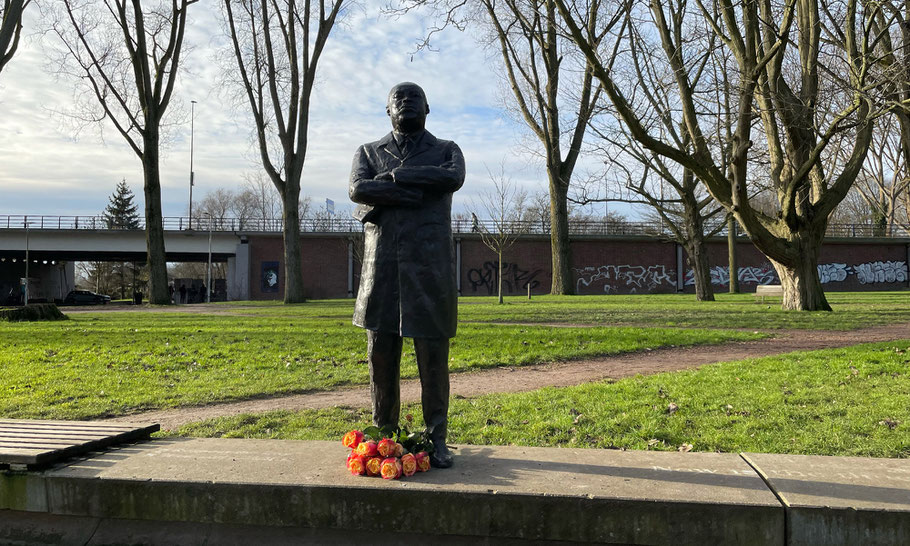 Intussen werd de urgentie van het beeld steeds groter, omdat gelijke rechten en solidariteit meer dan ooit onder druk staan. Studenten met een niet-Nederlandse achternaam vinden geen stage, vrouwen met een hoofddoek vinden moeilijk een baan, kinderen met een buitenlandse achtergrond krijgen structureel een te laag schooladvies. Het boerkaverbod, racisme op de voetbalvelden, de zwartepietendiscussie die al decennia doorgaat en nog steeds niet is opgelost...
Daarom moest dit beeld er komen, en wel nu. Als vreedzaam protest, een statement tegen racisme en discriminatie, opgedragen aan iedereen die strijdt voor gelijke rechten. Een oproep voor solidariteit en een oproep aan alle Amsterdammers om op te staan tegen onrecht. Op de rug van het beeld staat een tekst van Dr. King:
"The ultimate tragedy is not the oppression and cruelty by the bad people, 
but the silence over that by the good people."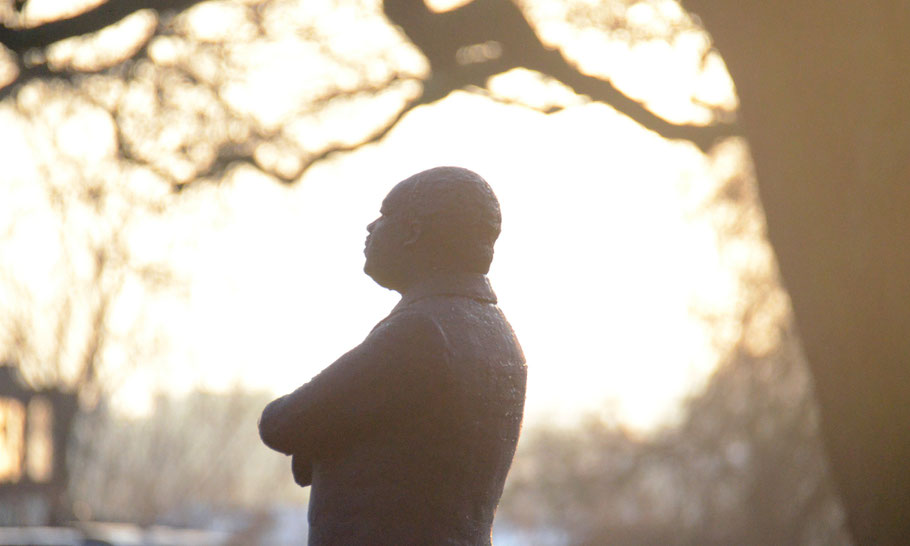 In 2018, 50 jaar na de moord op Martin Luther King werd het project Monument for Martin Luther King uitgevoerd: 50 identieke beeldjes van Martin Luther King werden op plekken gezet die herinneren aan Dr. King, racisme, discriminatie en het slavernijverleden van Amsterdam, en geschonken aan instanties en personen die strijden voor gelijke rechten (zie mlk50.nl/50-statues). Om zijn droom levend te houden, in deze tijden van toenemende intolerantie. Eén van de beeldjes werd in het Martin Luther Kingpark gezet en deze werd door stadsdeel Zuid op een mooie hoge Stadshouten sokkel geplaatst . Zo ontstond het idee van een permanent bronzen beeld. Want waarom was dat er eigenlijk nog niet, zoveel jaren na zijn dood, in het park dat naar hem vernoemd is? Nu staat hij er eindelijk. Het is een gift aan het Martin Luther Kingpark, een cadeau voor Amsterdam.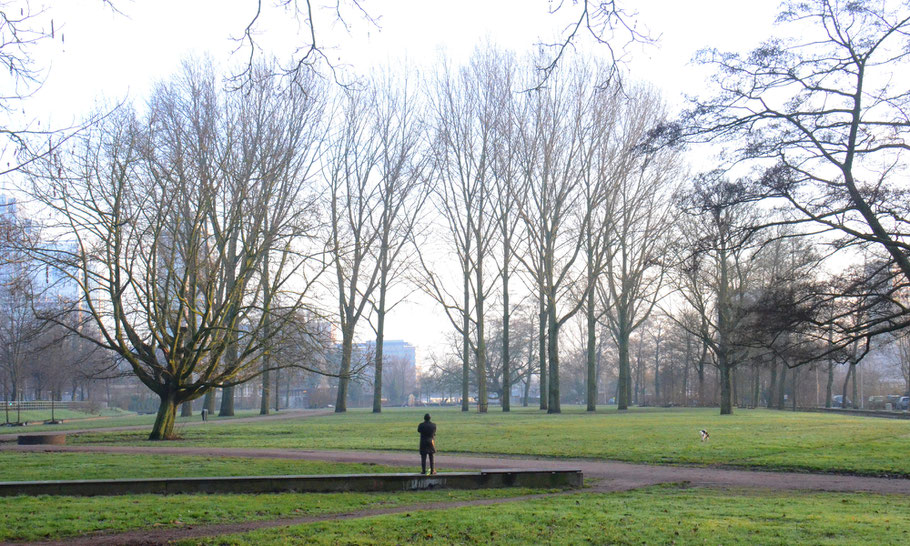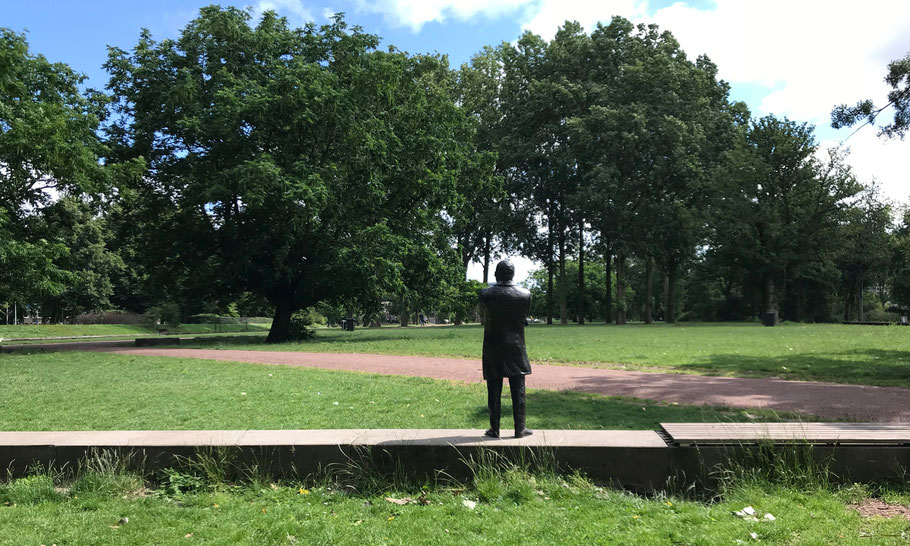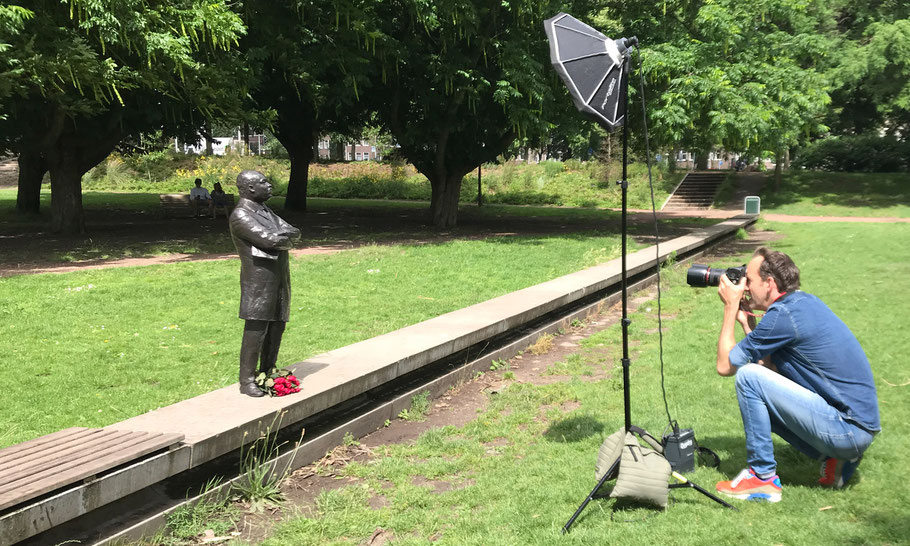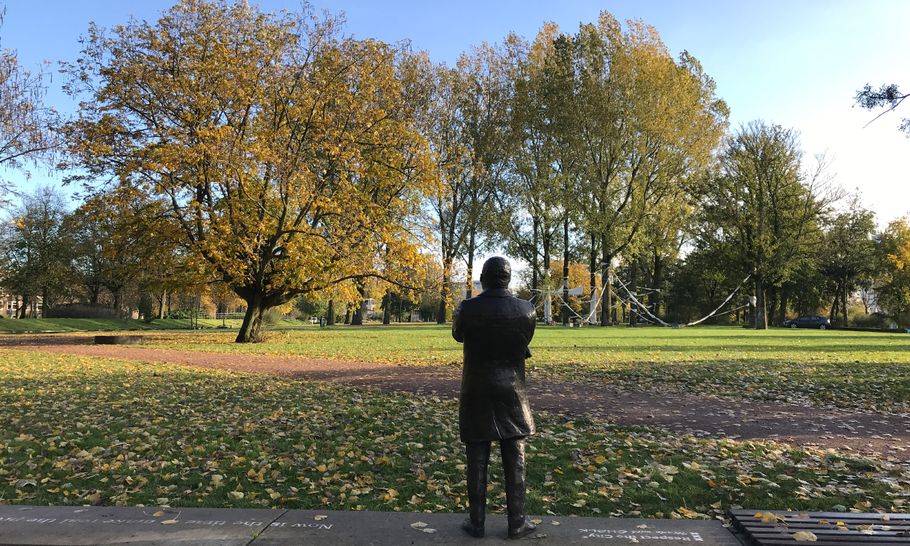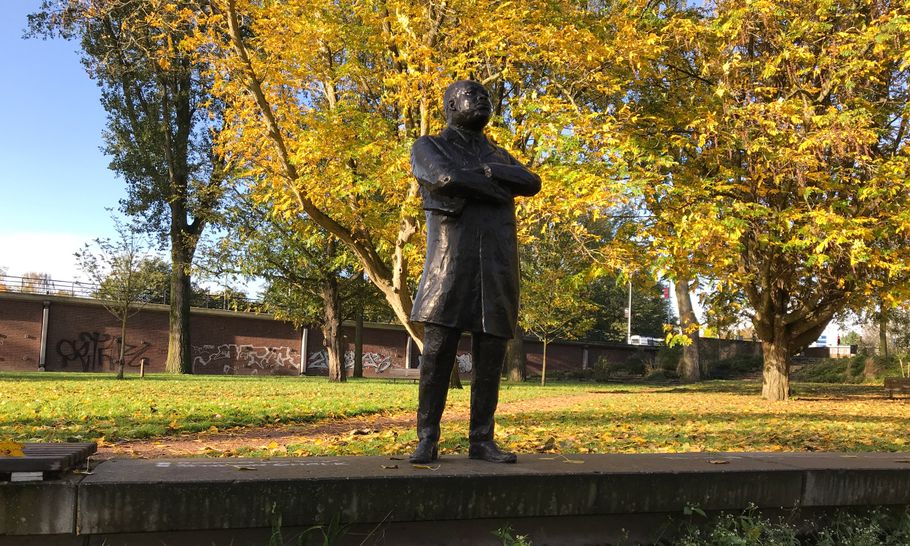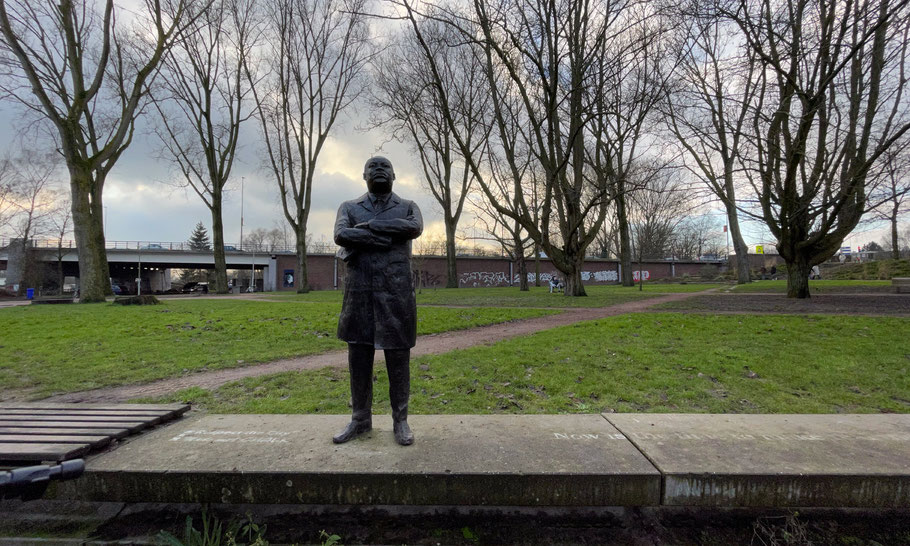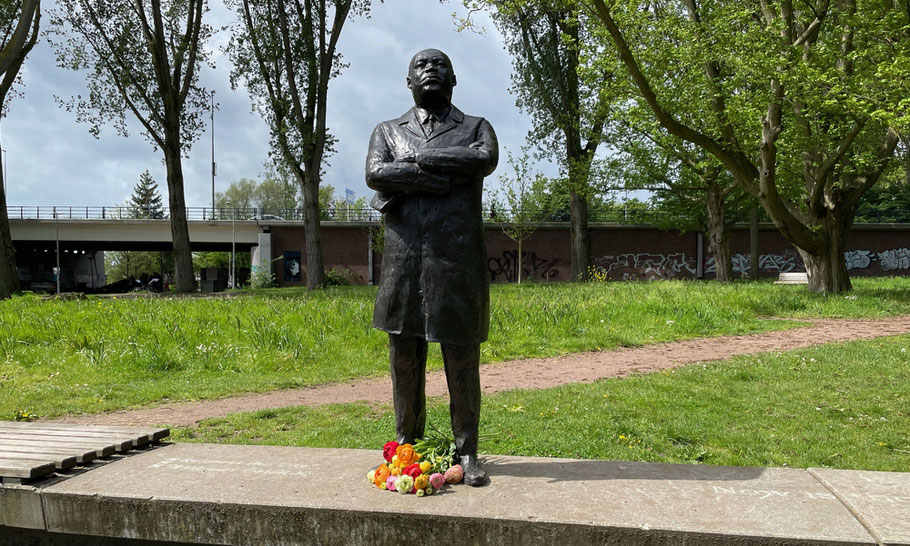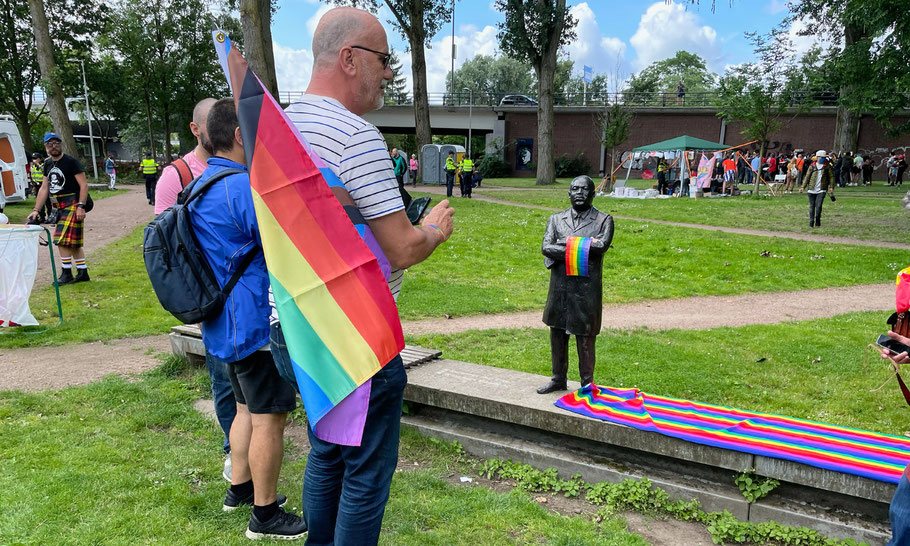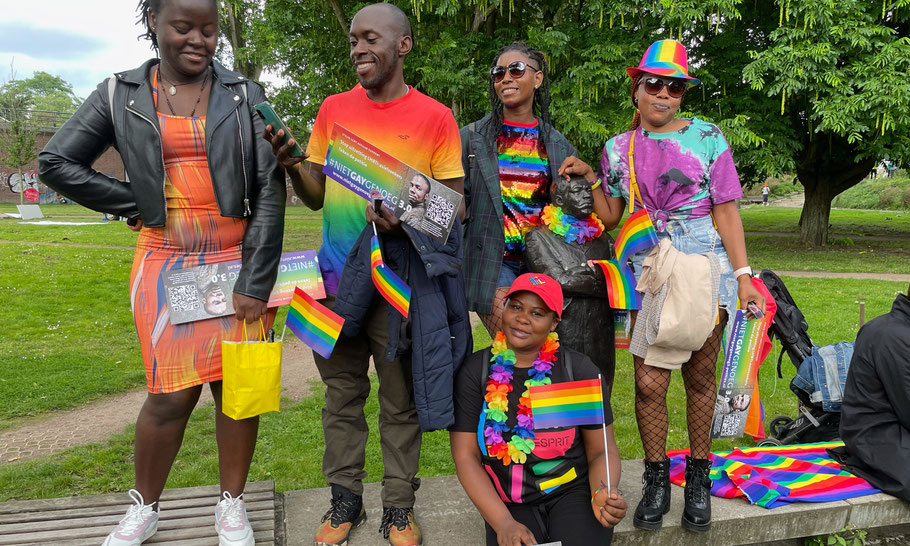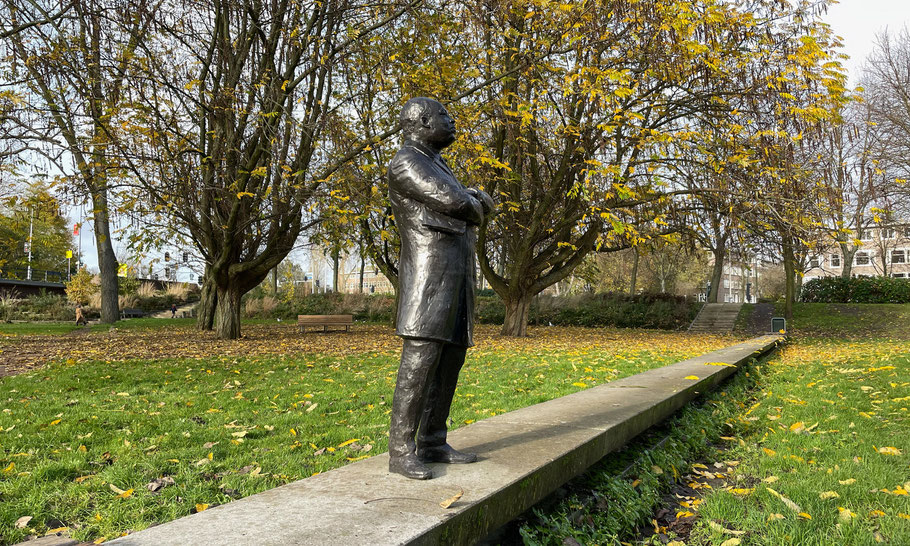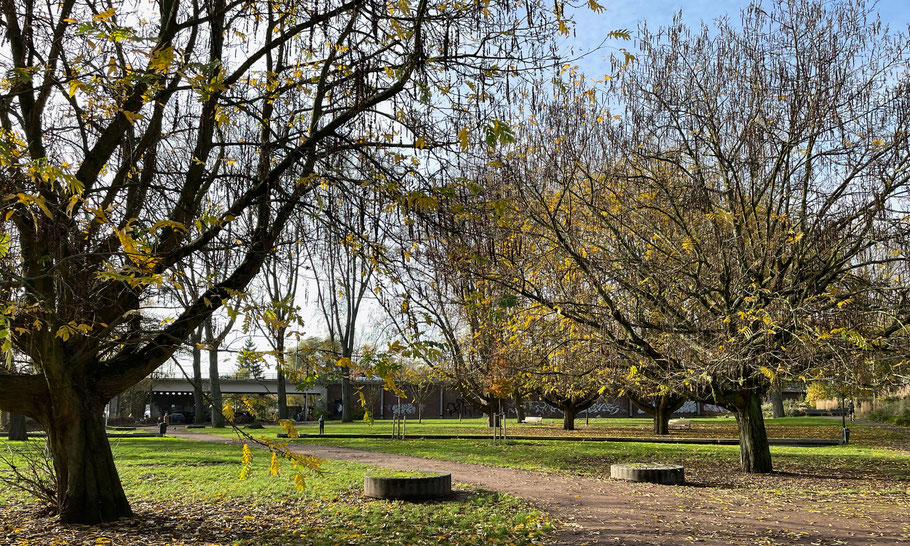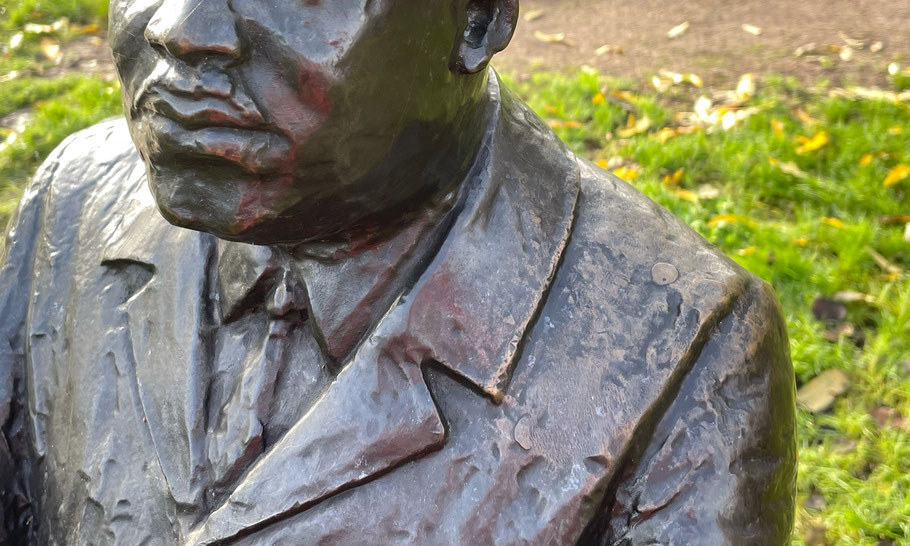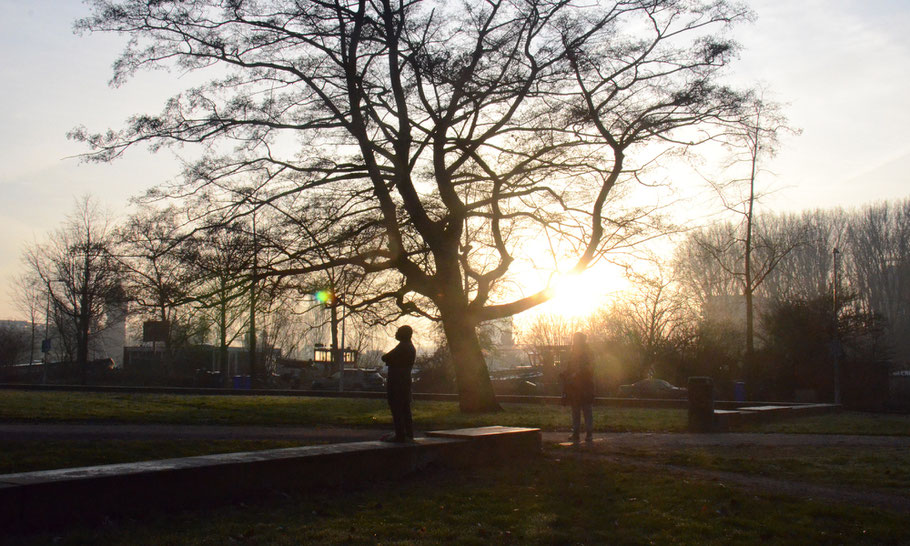 ---
Er is nog een project ontwikkeld ter ere van Martin Luther King: Selma Remembrance Walk Amsterdam 2020. 
Van 21 t/m 25 maart is het precies 55 jaar geleden dat Martin Luther King de mars van Selma naar Montgomery leidde, om stemrecht te eisen voor de zwarte bevolking. Een tocht van 87 kilometer, waarbij op de laatste dag 25.000 mensen meeliepen. Om dit te herdenken, en te ervaren hoe het is om in vijf dagen exact deze afstand te lopen voor een betere wereld, heeft zijn er vijf rondwandelingen ontworpen die starten en finishen in het Martin Luther Kingpark en leiden langs de plekken waar ook de kleine beeldjes van Dr. King stonden, de plekken die ons eraan herinneren hoe belangrijk het is te blijven strijden tegen racisme en discriminatie. De Martin Luther King Vijfdaagse blijkt daarnaast ook nog eens verrassend interessant: je loopt door maar liefst 13 Amsterdamse parken en je komt op plekken waar je nog nooit bent geweest Een uitdaging.
"If you can't fly then run, if you can't run then walk, if you can't walk then crawl, 
but whatever you do you have to keep moving forward." 
Martin Luther King, Jr.
Van 21 t/m 25 maart 2020 zal Airco Caravan de 87 kilometer te voet afleggen. 21 Maart is tevens de Internationale Dag tegen Racisme en Discriminatie; een stukje van de wandelroute zal samenvallen met de demonstratie op de Dam. De vijf wandelingen kunnen door iedereen gelopen worden, in elke gewenste volgorde, richting of startpunt. De routes zijn uiteraard ook het hele jaar door en per stuk te lopen. De vijf routes van 17-20 km  zijn voorzien van een .gpx voor je wandelapp, foto's, informatie en alternatieve startpunten, in het Engels en Nederlands, plus printbare PDF. Zie wandeling Centrum, Oost, West, Zuidoost en Zuidwest.  Ook is er pagina met video's en podcasts over Selma en Dr. King.
---